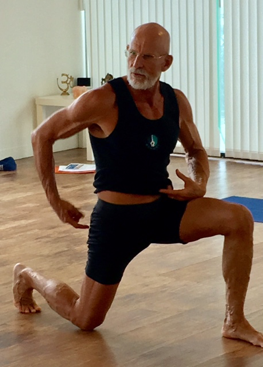 James E. Bryan, Knoff Yoga
Before studying Yoga with Nicky Knoff in Auckland, NZ in 1982, I was running marathons as an antidote to sitting on my ass all day in an office job. I found the long-distance training meditative, as I used to focus on my heartbeat and turned running into meditation.
I started attending yoga classes three times per week for the first three months and then seven days per week for the next four years, before attending a Teacher Training Course at the Iyengar Institute in Pune, India in 1986.
When you practice intensively, you quickly discover that your body is connected to your mind and your mind is connected to your body. It was very obvious to me that if I practiced in the mornings, my days went much more smoothly.
Over time, my relationship with my body deepened as I explored the extremes of asana practice and I found there were edges you needed to be careful with and not over-step. I found that it was not the shape of the asana that was the goal of practice, but the mind-state from the practice itself. My long term practice has confirmed the body is the temple of the spirit.