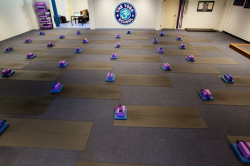 Yoga is much more than Pilates or a Pump class. Yoga is a complete system, a sophisticated tool for taming an unruly mind and building a strong and flexible body.
Yoga was designed to bring balance to all aspects of the body/mind/spirit. There are physical postures for the body, breathing techniques for the nervous system, meditation techniques for the busy mind and the whole thing is based on a positive, uplifting philosophy.
You get benefit when you start using your body correctly, start focusing your mind and expanding your breath. You get benefit from your very first class.
We age, but we don't have to get old. Old is both a state of mind and a physical condition. With yoga we can keep flexible. We can maintain functional strength, and we can keep a positive attitude towards all that life has to offer us.
95% of your practice is getting from your house to The Yoga School. Just come. No compromise, no excuses. You will always be welcome and glad you make the small effort for a substantial return of good health and well-being.
The effects of yoga last for 4 days, so it is important to practice twice per week in order to retain the benefits and progress.
The Yoga School is located at the Piccones Shopping Village on Pease St. Join our on-going 5-Week Introduction to Yoga Course. We supply all equipment, including top quality mats, plus an extensive Home Practice Guide.
Written by James E. Bryan E.R.Y.T. 500 (Program Director)
Bookingscan be made online www.theyogaschool.com.au or by calling Program Manager, James E. Bryan on 0415 362 534.